Just a little somethin'
Edit
Hello! I'm Sweetflower, an addicted and devoted user to WW! (Warriors Wikia) :3 My awesome friend, Cloudskye is one of the people here, and I see her posting on people's talks' about chatting on WSW. I am looking forword to my time here!
See here for my chararts. Hollyflower Merry Christmas!
See here for my fanfictions! Hollyflower Merry Christmas!
Thoughts on Users
Edit
Feather - OH MY GOSH! SHE IS AMAZING! I LOVE HER! *TACKLE HUGZ HER* :D
Skye - AWESOME AND CLEARLY DEVOTED! SHE IS JUST AWESOME!
Feathertail - My new friend.
SweetXGrass
Edit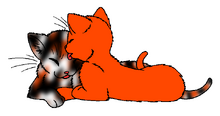 Sweetflower is the tortie and Grasspelt is the orange kitty :3.
My new edit goal is 250 edits.
Community content is available under
CC-BY-SA
unless otherwise noted.