Creepy World of Darkness

Status: Finished

Preceding: None

Spellcheckers: None

Silversong is your average, everyday warrior of RainClan. Her life is perfect. But her mother sends her a message from StarClan: Behind you, it seems like darkness, but really, there are shadows lurking from the past. While looking for an explination to the prophecy, Silversong finds her one true love. But this love is forbidden. Now, Silversong has to battle the enemy from behind and her heart. Will she win or lose?

A beautiful cream colored she-cat stepped out of the bushes near RainClan territory. Her starry pelt swayed as the wind grew stronger. The familiar scent of her daughter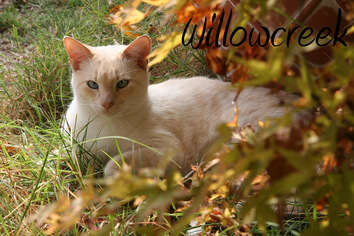 drifted into her nostrils. "Silversong." she breathed.

Willowcreek glanced at RainClan's camp. She missed her birth Clan. "Silversong." she whispered again. At this time, a handsome tabby tom with black paws and tail, appeared suddenly.

"You miss her, don't you?" he whispered into Willowcreek's ear. The cream she-cat jumped. The tom, her mate, startled her.

She took in his scent. "I have a prophecy to send to our daughter, Blackblaze." Willowcreek looked over at her mate. "Behind you, it seems like darkness, but really, there are shadows lurking from the past." Willowcreek looked back at RainClan. "Silversong has to be careful. Those rouges are dangers, and she's not ready to join the ranks of StarClan, she has much ahead of her. Willowcreek stands up and leaves her birth Clan. Her mate followed her.
Chapter 1
Edit
Silversong threw her paw into the water, and sent the fish flying.The fish she was stalking was now next to her in a pile of fish. "Fish, can't get enough of them." she whispered to herself. The wind blew harder.Silversong could sent a cat's scent. Her thick silver pelt bristled. The silver she-cat tasted the air again. This time, though, she stopped bristling.
Silversong reconized the scent. It was Beeflight. Silversong looked around for the fellow RainClan warrior. The golden tabby she-cat emerged from behind a bush. "We couldn't find any prey, Silversong, just this thin water vole." reported Beeflight. She pushed a scrawny vole towards Silversong.
"Why don't we just hunt fish. There are plenty of fish in the stream."
A bush shook. This time, Ivysoul popped out. "I heard what you she-cats were talking about." he mumbled. "Why don't we go to... half broken bridge. There are a lot of fish swimming over there."
"How would you know?" snapped Silversong barring her teeth. "Isn't that DawnClan's territory?" Ivysoul stood wide-eyed.
"Y-yeah, b-but-"
"No buts about it! Come on, I won't allow my patrol going anywhere near DawnClan borders." Silversong grabbed a fish from the pile with her jaws. The creature was slimmy, but it smelled deliciouse. "Beeflight, Ivysoul, take as many fish as you can. We'll come back if you can't take the whole pile." ordered Silversong through a mouthful of slimmy fish. The hunting patrol headed towards camp. They crossed the stepping stones to get to camp.
The water's waves were really strong considering the wind was blowing hard. They had fish, so they didn't want to drop their prey in the water. Their triangular camp was glowing with life. Cats everywhere.
Silversong headed towards the fresh-kill pile. Dropping her fish. Beeflight and Ivysoul came next. Two more fish where left near the stream. "Ivysoul, would you mind collecting the two last fish?" she asked. Ivysoul shook his head. He then trotted off to collect the last two fish. Beeflight set down her scrawny water vole. "Troutpaw!" called Silversong.
A spotted gray apprentice came up to Silversong."Yes, Silversong?" asked the spotted gray tom. "Would you mind taking some prey to the elders?" Troutpaw instantly collected as much fish he could carry, and went over to a dense bramble thicket.
The elders den. Silversong took notice that the fresh-kill pile was only full of fish. It was leaf-fall. RainClan was stocking up. But all the cats in the Clan were fat. They were all well fed.
Even Silversong herself was packing on a few pounds. Just then, Ivysoul came rushing in. A small brown tabby kit dangled in his jaws. "Ivysoul, what are you doing?!" yowled Silversong. Almost all the cats stopped what they were doing, and looked over at Ivysoul. His amber eyes stared into Silversong's furiouse pale blue eyes.
"What is going on here?" growled a voice from behind Silversong. The silver she-cat turned and saw a gray tom with darker flecks. "Ashstar, Ivysoul brought a kit to camp." she turned to Ivysoul whom was shaking. "And it doesn't smell like RainClan." she barred her teeth at Ivysoul.
The kit coughed and mewed. It was obviously hungry. "Well don't just stand there! Take the kit to a nursing queen!" ordered Ashstar. Ivysoul scooted towards the nursery.
Chapter 2
Edit
"Silversong, go acompany Ivysoul in the nursery!" growled Ashstar. He was obviously enraged. Silversong gulped. Her leader looked extremly fierce when he was angry. The spotted gray leader's heather green eyes burned with fury at knowing an outsider kit was in his Clan. He looked at the other Clan cats. "All of you, get back to what you were doing!" With that, Ashstar departed and entered his den.
Silversong sighed and trotted over to the nursery. Ivysoul was there speaking to the queens. "Which one of you won't mind nursing an outsider kit?" asked the young white tabby tom. Galefoot, a blue-gray tabby she-cat spoke up. "I'll be happy to." Ivysoul nodded and set down the brown tabby kit.
At that momment, Silversong inturrupted. "Excuse me, Ivysoul, but Ashstar would like us to take the kit back to his home once we're done." "But we don't even know where he comes from!" growled Ivysoul. Silversong sighed. "Really, are you that stupid? Smell him would you!" Silversong walked over to Galefoot. The little kit was suckling. He tried to get as close to Galefoot as he could.
"I don't know how you can suckle a kit from outside RainClan, Galefoot. I wouldn't let the little flea-bag near me if I were you!" hissed Fallowheart, one of the older nursery queen. Silversong saw Galefoot's gentle yellow eyes light up with anger. "How shallow can you be, Fallowheart? What if one of your kits was found in different territory? You would want someone suckling it, wouldn't you?" Instantly, Fallowheart lowered her head and turned away.
Silversong lowered her head and sniffed the kit. She growled. "DawnClan! This kit is from DawnClan!" Ivysoul looked at Silversong. "DawnClan? What would a DawnClan kit be wandering so far from home? I would have expected it to be a loner's kit!" Silversong watched the kit with pale blue eyes. When the kit stopped suckling, he looked up at Galefoot and said, "Your not my mother,and you smell funny, but your milk is deliciouse!" Galefoot laughed. "Thank you! And might I ask what your name is?"
Silversong pricked her ears and lay down next to Galefoot. Ivysoul did the same. The little kit looked around the nursery. "Before I tell you, I would like to know where I am. This doesn't look like the nursery I was born into." "Your in RainClan nursery. Now tell us your name!" snapped Silversong. The kit shrinked back. Galefoot turned to Silversong. "Don't be fiesty. He's just a kit!" Galefoot barred her teeth. Silversong widened her eyes. "Just tell us your name." mewed Silversong. "My name is Ferretkit, and one day, I'll be a strong warrior just like my dad!"
Silversong recalled the name. At the previouse Gathering, DawnClan mentioned having a new kit. The mother was next to Silversong. "My kit's name is Ferretkit." Dustwing, the mother, mentioned.
"Ivysoul, we have to take this kit back to DawnClan." Ivysoul nodded. Galefoot looked sad. Just then, Her kits, Oakkit, Squirrelkit, and Eaglekit appeared. "New kit? Yay!" cried Squirrelkit. "No, Squirrelkit, we're taking him home." Squirrelkit's yellow eyes appeared sad. Actually, all the kits' did. Silversong felt sorry for them, but she knew she had to bring the kit back to his mother.
Silversong grabbed the tabby kit in her mouth. "Come on, Ivysoul." she mewed with a mouthful of fur. Ivysoul nodded and followed the silver she-cat out.
Chapter 3
Edit
Silversong exited the nursery with Ivysoul at her side. The DawnClan kit dangled in her jaws. "When am I going home?" alsed Ferretkit. "Soon, little one." replied Silversong. She looked over at Ivysoul with pale blue eyes and nodded. Ivysoul ran up to the medicine cat's den. Silversong stood waiting for Gooseflight and Ivysoul. Gooseflight, the medicine cat, walked up to Silversong. "Silversong, are we really traveling to DawnClan camp?" asked Gooseflight nervously.
"Yes, we want you to come with us so DawnClan won't think we are invading." mewed Silversong through the kit's fur. They all headed towards DawnClan.
The cats reached horse-place. The smell of manure hit their noses. "Yuck!" cried the kit. "This is what I smelled on my way here!" Gooseflight's blue eyes looked nervously around. "If we're lucky, we won't have to run into any patrols. They are extra nasty this time of year." Gooseflight pointed out. Silversong dropped the kit. "Run a little, but don't leave too far." Ferretkit nodded and started to pounce a moth fluttering around.
Ivysoul turned to Silversong. "Silversong, DawnClan already probably knows the kit is missing. There will be a ton of patrols seeking the missing kit!" "Well, it will be best running into a patrol. I don't want to go to DawnClan's camp!" I don't want to go to any Clan's camp!", cried Silversong in her mind.
"Well, come on!" Silversong called the the kit and picked him up. "This uncomfortable!" he cried. "We'll get you home soon, little one. Just hold on!" reassured Silversong. The kit calmed down. The patrol headed towards the camp.
There, Silversong's patrol was spotted by a black tom with white paws and the most dashing blue eyes you could ever see! Silversong felt her fur flush under his steady gaze. The tom himself seemed to flush. All the other cats started to stare at the patrol. The tom shook his head and headed towards an old bagders set. Then popped a dusky brown she-cat. Dustwing. The queen took a look at the patrol and spotted her kit in Silversong's mouth.
Silversong walked over. All the warriors were cautiouse and huanched their backs in case they had to pounce. Silversong wasn't scared, she was a natural born fighter, even though she hated it. Dustwing came running up. "We found him near our camp. We took him to one of our queens to suckle." Silversong explained. The silver she-cat felt proud of saving a kit from starvation. "May StarClan light your path greatly! I was worried sick!" The dusky brown queen turned and called a cat over.
A handsome golden tom appeared from another bagder's set. He had a torn tail and blue eyes. "Daydreamer! This lovely she-cat found Ferretkit!" The cat's, Daydreamer, face lightened up. He ran toward the silver warrior of RainClan and his probable mate.
Ferretkit ran up to his mother and father. "How will we ever thank you?" asked Daydreamer. Gooseflight and Ivysoul appeared from behind Silversong. She was about to speak, when Gooseflight beat her to it. "I would love some chervil, I was wondering if your Clan had some." Daydreamer looked at the brown and white medicine cat and nodded. "Of course, our medicine cat is in that crevice." Daydreamer pointed to a huge rock with a crevice. Gooseflight zipped into the rock.
"Who's this?" asked a voice behind Silversong. The silver she-cat turned around to see a fiery ginger tabby she-cat with dark green eyes. The balck tom which Silversong had spotted earlier spoke up. "Emberstar, these RainClan warriors and their medicine cat brought back Dustwing's kit!" "Thank you, Crowsight."
Crowsight, so that's the tom's name, thought Silversong. She looked over at the striking tom once again. This time, Silversong felt her heart skip a beat, and her fur flush, her heart raced like a flying bird's. No, NO! Silversong, pull yourself together. This is DAWNCLAN. Remember that! Silversong couldn't bear take her eyes off the dashing tom. She feared that if she looked away, she'd never see his striking appearence again.
"DawnClan thanks you for safley returning Dustwing's kit" Emberstar mewed softly. Silversong shook her head, "It's in the warrior code. All cats must help a helpless kit."
Emberstar nodded. Gooseflight appeared with the chervil. The patrol then departed. All three heading home. On their way home, Silversong couldn't get the handsome tom out of her head. She learned his name was Crowsight. I must know more, she cried inside her. Wait, no he's a DawnClan warrior. Besides, he probably doesn't even like me. Silversong looked at a fish jump out of the lake. But he seemed lovestruck. I-I.... Silversong growled. I can't be falling in love with a DawnClan warrior! I just can't.
Little did Silversong know she had to battle something even greater than her own heart....
Chapter 4
Edit
As Silversong's patrol entered camp, Silversong still thought of Crowsight. I swear, if I have to kill myself to stop thinking of him, I will! Silversong headed towards the warriors den. Inside, Silversong headed for her nest in the back of the den.
The silver she-cat lay herself down, and closed her pale blue eyes.
Silversong awoke near a shimmering stream outside camp. "What am I doing here?" asked Silversong. The silver cat looked around. She didn't recall falling asleep outside the warriors den, especially outside of camp! Silversong looked around for some of Troutpaw and Beechpaw, the RainClan apprentices. "Come on out you two! I know you're here!" Silversong knew the apprentices were always dragging warriors outside of camp through a whole in the warriors den. I must get that patched up, thought Silversong.
A bush behind her rattled, making a lot of noise. Silversong expected to see the two apprentices. Silversong turned, anger flashed in her pale blue eyes. "You two are in s-" instead of seeing the apprentices, Silversong saw a slender, sleek, cream she-cat appear. A familier scent drifted into Silversong's nose. "M-m-mother? W-what ar-re you d-doing here?" stammered Silversong. She was suprised to see her mother. "Hello, Silversong, my daughter." the cream she-cat walked over towards her daughter. The cream cat touched noses with her only dauhter. Silversong felt tears well up in her eyes. "Willowcreek, our last talk was moons ago! I thought you left me."
A tear ran down Silversong's cheek. "My daughter, I will always be with you." Willowcreek licked Silversong's head. "But, I have come here with a prophecy." Silversong gazed at her mother with pale blue eyes. "What sort of prophecy?" asked Silversong. She wasn't really paying attention, Silversong was just glad to see her mother. "This prophecy will determine if your, our, clan lives on for thousands of years." Silversong instantly payed more attention. "What?! What do you mean? Our Clan hasn't had any problems since the rouge attack when I was little!"
Willowcreek's starry cream pelt bristled. "The rouges..."
"What?!"
Willowcreek looked at her daughter again. "Behind you, it seems like darkness, but really, there are shadows lurking from the past." Silversong didn't get it. "Mothe-"
Silversong was pawed again. Silversong shot up. "Mother!" A muscular white tom starred at her with amber eyes. "Silversong, you were whimpering in your sleep! What's wrong?" he asked. Silversong looked at the handsome tom. "Nothing, Cloudstep. Just a bad dream." Cloudstep stepped back to let Silversong get up from her nest.
"Do you want to share a vole with me?" asked Cloudstep. Silversong smiled, forgetting the prophecy and the dream. "Sure, father!" Cloudstep laughed. "Always with the jokes, eh, Silversong?" Silversong laughed. She always used to pretend Cloudstep was her father.
The two walked over to the fresh-kill pile and picked out a juicy water vole (not the one Beeflight found!), and walked over to the entrance to the warriors den. They both bit into the vole. While eating, Silversong remembered the prphecy. Behind you, it seems like darkness, but really, there are shadows lurking from the past. Silversong didn't get it. She didn't understand it. The shadows are probably rouges, but I'm not sure. Silversong thought to herself.
Great, does this mean more trouble for me? First the forbidden love, now, the possibilities of the rouges coming back once more? Great, just great! Why me? Silversong's head was filled with worry. Everything flew around in her head.
Chapter 5
Edit
Silversong awoke the next morning feeling better. A yowl errupted from the clearing. "All cats old enough to catch their own prey, gather here beneath the High Rock for a Clan meeting!" Ashstar decided to call a meeting? For what? Silversong then remembered that Fallowheart's kits were six moons old. This is great! The Clan can now geather more prey! Silversong padded to the clearing. A huge rock next to Ashstar's den, was gathered around by Silversong's clan mates. The thick furred she-cat noticed Cloudstep flicking his tail to her.
Silversong smiled and headed towards her make believe father. "Minnowkit and Mosskit are becoming apprentices!" whispered Cloudstep. Silversong looked at him. "I hope I get one of them, if I want to become a deputy, I have to have had at least one apprentice!" Cloudstep licked her head. "I know you'll get one." Silversong purred.
Ashstar's gray pelt shone in the sunlight. He stood proudly in front of his Clan. "Today, RainClan will recieve two new apprentices. Minnowkit and Mosskit, step forward." called the leader. Fallowheart pushed her daughters to the front. Silversong noticed Gorsefang, a handsome ginger tom with a white underbelly and green eyes, pad up to Fallowheart, his mate.
Mosskit and Minnowkit walked up together. "Minnowkit, you have reached the age of six moons, and it is time for you to be apprenticed. From this day, until you receive your warrior name, you will be known as Minnowpaw. I ask StarClan to watch over you and guide you until you find in your paws the strength and courage of a warrior." Ashstar looked over at Silversong with heather-green eyes and said, " Silversong, you are ready to take on an apprentice. You had received excellent training from Cloudstep, and you have shown yourself to be fierce and brave. You will be the mentor of Minnowpaw, and I expect you to pass on all you know to her." Silversong's heart pounded as she walked up to Minnowpaw. The beautiful, arrogant, ginger tabby she-cat lifted her muzzle up. Silversong and her new apprentice touched noses.
Minnowpaw left to join her mother and father. The family were waiting for Mosskit.
Ashstar continued the ceremony. "Mosskit, you have reached the age of six moons, and it is time for you to be apprenticed. From this day, until you receive your warrior name, you will be known as Mosspaw. I ask StarClan to watch over you and guide you until you find in your paws the strength and courage of a warrior."
Ashstar looked over at his deputy, Featherheart, a handsome white and gray tom with green eyes. "Featherheart, you are ready to take on an apprentice. You had received excellent training from Snowpelt, and you have shown yourself to be fierce and brave. You will be the mentor of Mosspaw, and I expect you to pass on all you know to her."
RainClan's deputy padded towards the newly made brown apprentice. Mentor and apprentice touched noses. Mosspaw then went to join her sister and parents. Silversong looked back at Ashstar. "Clan meeting over!" he yowled. He then jumped off of High Rock and entered his den.
Cloudstep pawed her. "See? What did I tell you? You would get an apprentice! Congratulations!" Silversong laughed. "Never underestimate Cloudstep's words!" Silversong noticed Minnowpaw run over to the thick furred warrior. "I'd better let you mentor Minnowpaw. See you later, Silversong!" Cloudstep then went on over to the warrior's den.
Minnowpaw reached her mentor. "So, what are we doing today, Silversong?" Silversong thought about it for a momment, and decided to teach Minnowpaw how to collect moss. "Why don't we go collect moss for the elders and queen?" Minnowpaw's excitment drowned from her green eyes.
"But that isn't fun! Mosspaw is going battle training! Can't we go with her?" Minnowpaw pouted. "Sorry, but being an apprentice isn't all fun." Minnowpaw mumbled some words Silversong couldn't understand. She led her apprentice over to the entrance, and they were gone in search for moss.
All the way over to a tree covered in moss, Silversong was deep in thought about the strange prophecy and Crowsight.
StarClan must have wanted me to have Minnowpaw! Yes, this will keep me from thinking about Crowsight. But, not enough to keep the prophecy away from my head. I wish my mother would have been more specific. Silversong sighed. Maybe she'll visit me tonight.
Chapter 6
Edit
The familiar scent of Silversong's mother wafted into her nose. The cream she-cat appeared. "Silversong." she cried. Willowcreek ran over to her daughter and purred. Silversong licked the cream StarClan she-cat's flank.
Mother, what did you mean about the prophecy? I don't get it!" Silversong looked into her mother's eyes. Willowcreek sighed. "You will understand it in time. Time and wisdom will give you the sense to understand it." A voice whispered something through the air.
Silversong couldn't understand it, but she noticed Willowcreek nodding. "I must go now, my daughter. I only have a limited amount of time with you." with that, Willowcreek turned and ran towards the horizan. Her body vanished into thin air.
Silversong woke up from her sleep. "Dusksky, Suncreek, and Hailpelt, your all on a hunting patrol!" yowled a voice in the clearing. It sounds like Featherheart, thought Silversong. The she-cat stood up from her warm moss bed. Silversong stretched and padded towards the clearing.
Featherheart looked over at her. "Ah, Silversong. Your on the dawn patrol with Gorsefang and Dovewing. Take Minnowpaw with you." "OK." Silversong called for her apprentice. The tabby apprentice ran over.
"We're on dawn patrol, come on." Minnowpaw's paws jumped with joy. "Finally! Something enjoyable!"
Gorsefang, a handsome ginger tom with a white underbelly and green eyes, and Dovewing, a broad snowy white tom with one green one golden eye, appeared from the middle of the sea of cats.
Featherheart added, "Your the head of the patrol." with that, the deputy headed over to Ashstar's den.
Silversong led her patrol out of camp.
Silversong took the patrol near DawnClan's territory. They marked the border. Crowsight is all that crossed Silversong's mind. Just then, the scent of a DawnClan cat wafted into her nostrils. Silversong noticed a black pelt behind a thin bush.
"Uh... y-you guys go ahead. I'll catch up with you!" she cried to her patrol. Gorsefang flicked his tail, signiling that he heard.
Silversong sighed and turned back to the black pelt. "Crowsight!" she called. "Crowsigh, is that you?" The same black tom with white paws and dashing blue eyes appeared. The broad tom. headed to her.
"Yes." he said. Crowsight investigated Silversong. "My, my, you are beautiful. I couldn't exactly identify how beautiful you were from a far distence. Silversong felt her cheeks grow hot. "T-thank you. You look dashing yourself." she said. Crowsight laughed. "It seems we are both love-struck. By the way, the small time we've been in love, and I don't know your name."
Silversong responded. "My name is Silversong." Crowsight smiled. "The perfect name to fit the esence of starlight." Silversong flushed.
She turned around. "I have to go." she mewed while looking back. "My patrol might get worried." "Wait! I can't bear leaving you, would you mind meeting me here tonight, at midnight? It will bring me much happiness if I see you again!" Silversong flushed. He does like me, oh, this is just great! But, good at the same time.
"OK." Silversong turned tail and ran as fast as she could. She practiclly bumped into Gorsefang. "Silversong! We were getting worried, you weren't showing up anywhere." "S-s-sorry, Gorsefang," she stammered, "I just thought I scented a rouge, so I followed the scent, but it lead to nowhere." Gorsefang's green eyes flickered with suspicion.
"Right, well come one, we have to get to the ShadeClan border." Gorsefang turned. Silversong ran ahead to the front of the patrol.
All the way to ShadeClan, Silversong was in deep thought. Why couldn't he be a RainClan warrior? Or a loner? Why does he have to be a DawnClan cat. Why me? Silversong was so deep in thought, unaware of her surroundings, that she almost bumped into a tree.
"Silversong, are you OK? You seem a bit... distracted. Is there something bothering you?" asked Dovewing. "No, nothing's wrong." Silversong contiued on.
Chapter 7
Edit
Silversong led the patrol to the ShadeClan border. Minnowpaw, her apprentice shrunk back. "Yuck! What is that smell?! It smells like sticky oil!!" Silversong looked at her apprentice, and tasted the air. "Yuck! Minnowpaw's right, this does smell like oil!" Silverong spat. Her patrol began to smell it as well.
Gorsefang looked at Silversong. "Wait, I know this smell. When I was an apprentice..." Silversong's pale blue eyes widened in shock. "I do to! But I was a kit...." Silversong franticly tried to remember how she had smelled the sticky smell.
Dovewing spoke up, "I smell something else.... cats?" Silversong tasted the air once more. "Your right," she said. "This does smell like cats."
Silversong growled. She bristled and fluffed out her tail, making her seem twice her actual size. Gorsefang and Dovewing did the same. Minnowpaw shivered and put her tail between her legs in fear. Silversong confusingly looked at her appretnice. Minnowpaw was the leader of her litter, stronger than her sister. Now, she was shaking in fear.
The bush in front the silver tabby shook. The overwhelming smell of oil and crow-food wafted into her nostrils. 3 huge cats appeared. Right behind them was a large, muscular kit. He was about the age of 4 moons!
"What are you doing on our territory?" snarled a huge light brown tabby tom. He unsheathed his long claws. They were covered in dry blood. Silversong growled, "Your territory? You mean RainClan's territory! Get out of it!" Silversong as well extended her claws.
"Get out of our territory unless your looking for a fight!" spat Dovewing. His one green eye and one golden one, blazed in anger. His snowy white pelt bristled in rage. A huge black she-cat, behind the light brown tabby tom, laughed. "I'd like to see you try, fur-brain! I could snap your frail little neck in seconds."
Dovewing kept his ground. Silversong growled again, "You should probably get out. RainClan cats aren't afraid to fight for what's rightfully ours. The little kit, a dark gray tabby tom, snickered. "Rightfuly yours? This territory was won by the Bloody Rouges moons ago!" The kit looked at his paws. "Well. that's what Slicer says, anyways." Silversong lifted a "brow". "Ugh, you idiot! Of course Slicer is right! He's never said such a lie before!" A creamy brown tom snarled. He was another one of those rouges that appeared.
Silversong recalled the name. Slicer.... where have I heard that name before?? Silversong noticed the kit spat at the tom that spoke to him. "Shut-up, Sage!! It's not like you've ever been right... so stop talking!!" The cat---Sage?--- instantly looked at his paws. "Be quite, Caster!" the light brown tabby scoled the kit, Caster.
The light brown tabby looked at Silversong. "Shame we have to kill such beauty. She could have been perfect to bear my kits." he grinned evily. Silversong growled harder. "DIE!!" Silversong lunged at the light brown tabby's throat. He kicked her off easily. "Silly cat, thre is no way you can kill me!" He knocked her over with his massive size, and pinned her to the ground.
Through the corner of her eyes, Silversong noticed Gorsefang tearing at the black she-cat's fur. Dovewing was batting at the cream rouges head. "Get out of our territory!" he spat. Silversong widened her eyes when she saw Minnowpaw. Her once strong apprentice was pinned to the ground by the 4 moon old kit! The kit laughed. "You're bigger than me and your can't even pin me down?! This Clan will be so easy to drive out!"
Caster scrached Minnowpaw's belly. A bloodcurdling yowl sliced through the air. Minnowpaw batted the kit off and ran towards camp. Silversong returned to her own battle. The tom had green eyes, and they were flickering with laughter. The sound of cats fighting filled the air. Silversong felt a tear on her chest.
Chapter 8
Edit
Silversong screeched as the tom's claws ripped through her skin on her chest. The tom pinned her. "Unless you want to die, I suggest you leave this territory for us." his evil grin was sickinging. Yellow teeth coated with dry specks of blood. Silversong yowled and slashed a claw at his eye. He yowled out in pain and ran towards an old Thunderpath.
The black she-cat that was being teared up. Gorsefang hissed and scrached her head. The she-cat looked blood-colored instead of black. She ran off behind the light brown tabby. Silversong yowled and jumped on top of the cream tom, whom was begining to tire Dovewing out. Gorsefang jumped on him, too. The cream tom slashed his claw at Gorsefang's ear. He teared back, leaving a tear.
Silversong felt a tiny body jump onto her. She turned to see Caster arching his back and hissing. Silversong easily pushed him off. "Look, kit, I don't want to hurt you. Go back to your group and don't come back. You're too young to die." Silversong chased him off.
When Silversong turned back to see how Gorsefang and Dovewing were doing, she noticed the rouge was gone.
"We batted his head really hard and we chased him off." Dovewing meowed. Silversong nodded.
"We need to get these wounds checked up and report to Ashstar." Silversong's silver pelt was bloody and ugly.
The patrol headed back to camp. While the patrol headed to camp, Silversong kept a close eye on the scenery around her. She was doing two things at a time. Looking for Minnowpaw, and watching out for the rouges.
---
In camp, Gooseflight was putting marigold on her chest. "This wound will heal, but the scar will mark you for the rest of your life." he said. Silversong sighed and tried not to look at her chest. It was a huge wound.
The silver she-cat walked out of the medicine cat den. The huge X scar marking her battle. As she entered the clearing, all cats nearby stopped what they were doing and looked at Silversong's chest. Silversong barred her teeth and walked quitely to the warriors' den. Not a single soul stirred in the clearing. All eyes starred at the honored silver she-cat.
When Silversong reached her moss bed, she cuddled tight and went to sleep. A shadow appeared from behind her. Silversong lifted and eye lid a bit and turned. The familiar scent hit her nostrils and she knew Cloudstep was with her.
"You OK? Don't worry about the cats, they're just suprised to see such a big scar."
"Thanks for reminding me." hissed Silversong. She turned back and lay her head on her paws. Cloudstep made his way next to her.
"Look, you're too beautiful to be so mad about a stupid scar! So what, I've got a lot of scars but I'm still me. The scars don't change anything." Silversong turned around and looked into Cloudsteps amazing amber eyes. Silversong felt the same flushed sensation when she looked into her lover, Crowsight's blue eyes.
Silversong felt her worry wash away as Cloudstep soothed her.
"Beautiful? You really think I'm beautiful?" she asked her former mentor.
Cloudsteps laughed. "Of course you're beautiful! Your a lovely she-cat. I wouldn't be suprised if all the toms in the Clan stopped and looked at you. I myself feel a sudden sensation near you." Silversong jumped a little when he said that. Suddenly, her feelings shifted and her heart beat so hard, she thought it might pop out.
"Really?" asked Silversong. Cloudstep nodded and cuddled with Silversong.
Chapter 9
Edit
That night, Silversong dreamt of her mother again. Willowcreek walked to her daughter once more.
"Daughter," she said softly "forgive me for not visiting. I have come with a message. The rouges are coming loser and---"
"I know the rouges are coming! Look what they did to me!" Silversong pointed to her huge X scar on her chest. Willowcreek didn't seem suprised.
"Be glad they didn't do worse. These rouges are powerful. They can snap your neck of claw out your guts in a second. They don't have the knowledge of StarClan, that's one of their many flaws. On the other hand, they are big and strong. They could easily overpower a young leader." Willowcreek went through all the flaws and advantages.
Silversong wasn't paying much attention. Her mind swerved and brang images of Crowsight and Cloudstep. Two cats that shared feelings for Silversong. Two cats capable of ending their lives for her. Two cats capable of killing for her. Two cats capable of killing each other for her.
Both cats were strong, well muscled, and young. Both cats were lovely. Both cats were her hearts. Silversong sighed and thought a little more about Crowsight. He was clearly in love with her. He showed it in his actions and words. Silversong chuckled a little. She thought about bearing his kits, but she quickly shrugged the thought off. She allowed herself to fall in love with a cat from another clan, but she will not bear his kits.
Silversong has been trusted for more years than she can think of. Her Clan honered her like a true warrior. Bearing kits from a tom from another Clan will make her seem untrustworthy, and a failure to the Clan. No, she can not bear any half-clan kits.
"Silversong, have you been listening to me?" Silversong snapped out of her thoughts and strained to pay attention.
"Excuse me, what?" Silversong cocked her silver head in confusion. Willowcreek sighed heavily, then giggled loudly.
"Who can think of a time you did listen? You would always get distracted easily." Willowcreek turned to the StarClan sun. The StarClan winds blew into her fur. The sun set slowly. The colerful scenery was so peaceful and beautiful. Willowcreek looked beautiful against it.
Silversong sighed and sat down.
"Don't worry," she closed her eyes and sat down and lay her tail on her paws "I'm perfectly capable of deafeting lowlife rouges any day." she opened her eyes and looked to the side. "They won't be a bother."
Silversong tried to fake yawn and asked her mother if she could be left alon to sleep.
"Of course, you must rest well, daughter." With that, Silversong closed her eyes and slept.
Chapter 10
Edit
As Silversong woke, she blinked several times, adjusting to the light that shone through the holes in the entrance. The rays of the early morning sun shone brightly on her thick silver pelt. Silversong yawned, showing her glistening white teeth.
The warrior stretched her muscles and gave herself a good thorough cleaning. Afterwards, Silversong padded towards the entrance to the warriors' den, putting one paw infront of the other with each soft step.
Silversong's meeting with her mother flashed in her head. The way she had treated her mother was unforgivable. The warrior flattened her ears and closed her eyes as she walked into the clearing of her camp. Featherheart's yowls were muffled by her thoughts. She was in a different world, thinking of other things rather than her duties.
"Silversong, I said you were on the hunting patrol!"
Silversong snapped oout of her thoughts and looked steaight into Featherheart's soft green eyes. The RainClan eyed her suspiciously.
"Are you okay?" he asked as the Clan turned and looked at her, waiting for her response.
"F-fine. Just a bit tired." she lied. Silversong regreted the treatment she gave her mother on that beautiful StarClan night.
Featherheart seemed to ignor her and resumed with calling out the patrols.
"Streamwater, Dusksky, Mosspaw, Silversong, Minnowpaw, and I will go out on the hunting patrol." Featherheart jumped off the large boulder he was standing on.
Again, Silversong was lost in thought. I'm an ignorant cat. I don't deserve Willowcreek's nice treatment.
"Let's go!" called Featherheart. Minnowpaw padded her way next to Silversong's side.
"Are you okay? You seem a bit distant."
"I'm fine."
"Really?"
"Yes."
Silversong strained a smile. She followed Featherheart and the patrol to the streams that provided a barrier-like defense against any attacking cats. Silversong slugged through the water. The muddy ground squishing underneathe her. The water slowly lapped at the pebble-filled shore.
"Come, we will hunt near the lake." The gray and white deputy led his patrol towards a lapping shore. Its muddy banks squishing beneathe the paws of the RainClan warriors.
Minnowpaw and Mosspaw pawed at each other for a nice spot near the shore.
"I want this spot!" hissed Minnowpaw angrily.
"You got the best spot last time! Let me have it!" protested Mosspaw.
"I hate having to live in your shadow! You've always got the best of everything, Minnowpaw!" growled Mosspaw.
Silversong padded next to the angry sisters. Mosspaw's spine fur bristled while Minnowpaw'a haunches were raised and her teeth were barred.
"Young one's, you must not fight over a stupid spot near the shore." she tunred to Mosspaw. "And Mosspaw will have the spot for today. No more fighting, understood?"
Minnowpaw's green eyes flickered with anger and protest, but her haunches were lowered and her teeth were barred no more. Minnowpaw trudged next to Featherheart while mumbling.
Mosspaw gladly sat down on her well-deserved spot and began to concentrate so much, Silversong thought not even a monster can snap Mosspaw out of her concentration.
"Featherheart, may I hunt near the DawnClan border?" asked Silversong, hoping for a yes.
Featherheart turned and nodded his approval. "Of course."
The thick silver she-cat bowed and trotted off towards her lover's border. She hoped that seeing him would ease her pain. The thought of seeing Crowsight's striking blue eyes almost calmed her.
When she arrived, Silversong tasted the air for any sign of Crowsight. She caught a scent that was familar. Crowsight!
"Crowsight, are you here?!" she called. The bushes two fox-lengths ahead of her shook. Crowsight's black pelt emerged from the dark group of plants.
"My lovely, you have come?"
Silversong purred with affection. His eyes were moony and glazed with love.
"Crowsight, I wanted to see you."
"I know, my sweet. I am here for you." Crowsight walked to Silversong and rubbed his cheek against hers. Silversong felt another purr rumble in her throat.
"I love you." exclaimed Silversong. She purred louder now. Crowsight sat down beside her and Silversong did the same.
"Silversong, I have to ask you something." He turned his blue eyes to her and gazed into Silversong's pale blue ones.
"You love me, don't you?"
Silversong nodded. "More than anything."
"Good. Do you mind having kits with me?" he breathed.
Silversong widened her eyes and pushed back. "No! I can't! You're from a different Clan! A rival Clan! We'll be a disgrace to our Clans. Besides, you're a deputy you have been trusted so much that you've earned tthat rank! You can't blow that all away just because you want me and kits!"
"But, lovely, I don't care if I lose my rank. All I care about is...."
"What?" Silversong's heart beat with unease.
Crowsight lowered his head and looked at his paws. "I only care about you."
It was like a thorn cutting into her heart. She was in love too, but she wasn't going to have kits. And now, the tom she loved was saying he would have kits and would lose his deputyship just to be with her and their kits.
Her silver pelt prickled with the urge to tell him everything, open her heart and say the same. She was ready to tell him they can leave the Clans, but something stopped her from doing so.
"I... I have to go, Crowsight." Silversong sprinted away from her lover. Her mate.
Chapter 11
Edit
Silversong hurled herself away from the cat she now described as her mate.
"Silversong!" Crowsight called for her.
Silversong didn't reply, especially look back. She couldn't bear seeing Crowsight again even though she knew it would break her heart. After all, she did want kits and looking at Crowsight just reminded her that that dream was impossible with him.
Crowsight's yowls faded as she got nearer to camp. She entered with unease. The camp made her feel far from Crowsight.
Silversong raced away to the warriors' den and lay on her moss bed. She closed her eyes and tried to imagine herself with Crowsight. His jet black pelt with white paws. Striking blue eyes that flowed with love like a river. Then, she imagined herself giving birth to his kits. Four. She always wanted four kits.
She let out a sigh as she opened her eyes. Silversong jumped when she saw a pair of blue eyes staring into her's.
Hailpelt lashed her tail with impatience.
"Finally, I thought you were asleep, but I noticed you were breathing faster than you would in sleep." Hailpelt licked her between the ears and settled down next to her clanmate.
Silversong calmed down and settled beside her friend.
"What do you want?" was Silversong's harsh question. She didn't mean to be so rude, but she wasn't in the mood to speak to anybody. She urged Hailpelt to say nothing and leave as if nothing happened.
"Well," she began.
Oh great, a conversation, what more can I ask for? she told herself.
"I want to know if you and Minnowpaw want to come out on the sunhigh patrol near the DarkClan border." explained Hailpelt.
Just what I need, a stupid patrol! Silversong bit back the harsh comment and gingerly nodded her head. "Fine." she growled.
Hailpelt jumped up and mewed, "Great." And left without another word.
Hailpelt led the way out of camp. Minnowpaw scampered around near Silversong. The apprentice's ginger tabby fur bristled and waves of anxiety hit Silversong like a rock.
As the patrol neared the border, the same sticky and oily scent bathed the air around the RainClan cats.
"Blech! That is disgusting!" spat Hailpelt. Suddenly, four cats appeared infront of them.
"We want to speak to your leader." moewed a large tortoiseshell tom. The other three cats barred their teeth in a snarl. "And we will speak to him." growled the tortoiseshell. Hailpelt narrowed her eyes and reluctantly nodded.
"Very well, but follow us." The light gray she-cat led the way back to the camp.
Great. First the patrol, and now these rouges! StarClan, what more are you going to throw at me? The large tortoiseshell tom appeared beside and. "Get ready Clan cat. You're life is going to be over in a matter of sunrises." he hissed and ran ahead. What? Silversong's head whirled with so much stuff. I wish Crowsight were here. He'd sooth me. Silversong reminded herself he was one of her problems right now.
In camp, Ashstar was sitting in the clearing and narrowed his eyes at the group of rouges. Troutpaw and Beechpaw were huddled together at the entrance to the apprentice's den. Their eyes glazed with fear. Mosspaw stood bravely in front of them and Minnowpaw ran over to her sister, matching her bravery.
"Who are they?" spat Ashstar. His muscles rippled and he poised himself as if he was going to pounce.
"We come in peace." spoke the tortoiseshell tom." My name is Slicer, leader of the Bloody Rouges. We have come to claim what is rightfully ours."
Slicer! That name is really familier. Just then, Silversong noticed two of the cats in the group. Sage and the black she-cat she had fought some sunrises ago on DarkClan's territory.
"Rightfully yours? What are you talking about?" Ashstar's blue eyes blazed with anger. "This is RainClan's territory! Not your stupid group of pathetic cats! RainClan, attack!" Ashstar hurtled himself at Slicer. Silversong siezed the chance and sprang at Sage.
"You again!" he hissed. "I see you still have Slasher's "gift"." he sneered. Silversong knew Sage was talking about her mark on her chest.
"Back off!" Silversong clawed at his belly. Sage yowled out in pain. A body suddenly smacked into Silversong, throwing her off of Sage. The black she-cat stood over her. She clawed Silversong's ears and Sage bit her tail. Silversong winced and tried to push them off, but they were heavier and larger than her. Cloudstep appeared and clawed at the black she-cat. His white fur was matted with blood.
"Myra, Look!" Silversong then realized Sage had stopped fighting. All the cats stopped fighting. The black she-cat--Myra?-- stared in disbelief at Slicer, who was standing in the middle of the battling cats. A tuft of ginger fur hung from his mouth, and a limp body lay at his feet.
"Fallowheart!" screeched Gorsefang, who came pelting over to his mate. Dead mate. "You monster!" he cried and he stared at Fallowheart's limp corpse. Her amber eyes stared at nothing.
"Mother!" Minnowpaw and Mosspaw came over to thier father. The sisters began to franticly lick their mother's fur. What was left of her fur.
She looked as if she never had fur. Tufts of it flew around the camp. Her body was pale pink and bloody where the fur had been torn.
"There will be more slaughtering if you do not leave this territory in four sunrises." With that, Slicer flicked his tail and led Sage, Mya, and the third cat away from RainClan camp. Silversong couldn't believe the cranky and arrogant queen was dead.
"Fallowheart, may StarClan treat you well." whispered Gorsefang. The ginger tom pushed his muzle into Fallowheart's bloody skin.
"We will mourn for Fallowheart and avenge her death," declared Ashstar. He had a swollen eye and his pelt was torn. "We will not leave this territory. Instead, we should begin asking for help from our neighboring Clans. DawnClan and DarkClan must be warned. RainClan will suceed!" Ashstar left and entereed his den.
Gooseflight began to check all the cats who had been injured. Silversong padded towards her former mentor. Her tail and ears stung but she didn't want to waste marigold and cobwebs on her minor injuries. Instead, she should be focusing on the dangers ahead. The dark shadows. The Bloody Rouges are the dark shadows.
Correct, daughter, whispered a voice behind her. Silversong knew very well it wasn't any of her Clanmates. Just her mother.
Chapter 12
Edit
It had been two sunrises since Fallowheart's death. DawnClan and DarkClan were both warned and they both agreed on helping, fearing their territories would be next.
Now, Silversong was practicing battle moves with Minnowpaw. The apprentice had mastered all the battle moves perfectly. Troutpaw and Beechpaw were both made warriors, now Trouttail and Beechclaw.
"Great! Now remember to twist mid-air." she reminded Minnowpaw. The apprentice swiped down and landed on all fours. "Good."
Chapter 13
Edit
The start of the fourth day had begun. But all was quite, yet Silversong kept a close eye on the DarkClan border. Suddenly, the familier scent wafted into her nostrils. They are here. She thought. "Quickly! Get ShadeClan and report to Ashstar! They're coming!" the patrol, which consisted of Trouttail, Minnowpaw, and Suncreek, nodded and dashed off. Silversong pelted over to DawnClan's territory.
When she got their, the leader, Emberstar, was waiting. Crowsight waited next to her. "We knew you were coming." explained Emberstar. "We are ready. The whole of DawnClan will be coming." With a flick of her tail, Emberstar led all of her Clan (except elders, kits, and queens) towards their battle-place.
"Don't worry," Crowsight's scent drifted around her. "I'll be with you every pawstep of the way, my lovely." comforted, Silversong led the way on.
At the battle-place, ShadeClan warriors were already waiting with Minnowpaw and Trouttail. Where was Suncreek?
"I'm here!" called a voice from behind. Silversong whirled around to see Suncreek with the whole of RainClan behind him. Just then, The Blood Rouges appeared.
"I see you haven't walked away peacefully." growled Slicer. He unseathed his claws, digging them in the soil. The rouges had more cats then anyone could imagine. Both sides had even numbers of cats, thankfully.
"We'll never leave this territory!" yowled Ashstar, who was flanked by Emberstar and Duskstar. "Clan cats, attack!" he screeched and all cats flung themselves at each other.
Silversong felt a large body smack into her. She scrambled to her paws, with the sounds of angry shrieks and cries of pain. She looked straight into Slicer's eyes.
"I see you've grown." he growled. The tortoiseshell flung himself at the RainClan warrior again, but she knew it was coming. Dodging quickly, she whipped around and clawed his ears, then inflicted a fatal bite to the throat. Nearly heartbeats after that, Slicer pushed Silversong off easily.
Now bloody, Silversong lunged again. With Slicer being much heavier than her, she had the advantage of being able to move faster. She quickly dodged Slicer's flailing paws and bit into his hind legs. With a yowl of pain, he turned and batted at her head. Silversong stumbled, but regained her balance in time to miss Slicer's teeth clamping into her neck.
Silversong jumped onto his back and clawed furiously. What does he mean? Has he seen me before? While she was distracted, Slicer had pinned her to the floor by her throat.
"Your father failed to protect you, know, you're even more vulnerable without anyone to help you!" Slicer ripped at her chest wound, which was just beginning to close. He ripped flesh and Silversong yowled in agony. His claws were sharper than a thorn. Silversong winced in pain. The sound of screeching cats was beginning to become blurry.
Silversong was beginning to close her eyes when a black body suddenly shouldered Slicer off. Crowsight! Silversong's secret mate had saved her life. His eyes, which were staring at her, gave her strength. She lifted herself up and lunged at Slasher, who was springing over to where she was.
Silversong bit the back of his neck and he instantly went limp. The silver she-cat dropped his body and spit on it in disgust. That's what you get, crow-food eater! Crowsight was busy fighting with a white she-cat. He hadn't noticed what Silversong had done.
Silversong heard a large screech and whipped around. Cloudstep was locked in battle with Myna. Myna batted at his head and nipped his flailing paws. Silversong felt a surge of anger and bounded across the blood-stained floor, pelted with cats of the Clans and Blood Rouges. Out of the corner of her eyes, Silversong spotted Beechclaw limp on the ground. May StarClan treat you well,
Silvesong leaped and landed on Myna's back. Silversong clawed at her back. Myna screeched and leaped off of Cloudstep. She raced away into the trees. "Thanks." croaked Cloudstep. His muscles rippled along his body. His battle-scarred pelt was bloody and some of his older wounds were ripped open.
Side by side, Cloudstep had killed a flame-colored tom. Silversong had wounded a small she-cat. The urge to go on battling pulsed through Silversong. Blood roared
Silversong noticed Crowsight and Robincall, the ShadeClan deputy, battling together against three rouges. Robincall knocked a tabby to the ground and wounded a small black and white tortoiseshell. Crowsight's white paws were sprayed with blood.
Minnowpaw and Duskstar were leaping onto Sage. Sage frantically tried to claw them, but he wasn't a match for the duo. Sage scrambled away from them and ran into the trees, followed by many others.
Silversong saw Ashstar on the ground, dead. He had only one life left to lose. Silversong recalled the time Gooseflight told her Ashstar was on his last life. Featherheart would have to serve as leader now.
Silversong saw Slicer. He was cutting Bloodpelt's belly open. The ginger tom fell and Slicer leaped onto Sweetwillow, who was bounding over to save her clanmate, but came too late. She too fell limp after Slicer cut her throat open.
Enraged with all the murders he was causing, Silversong screeched and flung herself at the leader of the Blood Rouges. He turned. He seemed to know she was there. His amber eyes glinted with amusement as he whirled around and ran towards her. She flew into the air as soon as he reached her, but Slicer caught her by her hind leg.
Pulling hard, he threw Silversong back onto the ground. Silversong wailed loudly. She felt as if all the bones in her body had been broken. Stunned with shock and barly able to move, Silversong waited for death to come upon her. She closed her eyes and saw the bright light of StarClan's entrance.
Chapter 14
Edit
"No, my daughter, it's not your time." Willowcreek greeted Silversong into StarClan with those seven words.
"Why shouldn't it be? There's no way you can cure my broken bones and send me back."
"You are an exception. StarClan is willing to do this for you, but only this time. It will be like losing a life, Silversong. We have to cure your body first." With all her might, Willowcreek focused all her energy on Silversong. Blackblaze appeared next to her.
"Blackblaze!" Silversong called for her father, but Blackblaze didn't answer. He was focusing, too. Willowcreek focused harder. She scent all her health towards Silversong's broken body on Earth. This is one shadow that will not win! she thought to herself. With one final effort, Willowcreek knew she and Blackblaze did as they were supposed to.
They had given their daughter a second chance.
Chapter 15
Edit
Silversong blinked open to the sounds of thumping bodies, shrieking cats, and blood spattering around her. Slicer stood over her body, which felt healthy and strong unlike a few heartbeats ago. She had felt like her bones were broken. Out of the corner of her eye, Silversong saw Crowsight and Cloudstep side by side staring at her with fear and agony.
They think I'm dead.
Silversong slightly lifted her head and saw Slicer's exposed belly. She siezed the advantage and clawed his belly open. Slicer's amber eyes widened in shock. As did Cloudstep's and Crowsight's. The two toms were frozen, but quickly came bounding over.
"Silversong!" cried Crowsight.
Silversong was breathing hard as she watched Slicer convulsing on the floor. All the cats had stopped fighting, and the yowls of cats died down.
"You're killing him!" cried Sage. The cream tom was trembling hard. A line of white outlined Myra's blue eyes.
"Slicer!" called a cat.
Silversong growled, "Where's your streangth now, rouge? Where is your power?" Her blue eyes were blazing with anger.
"Die..." was Slicer's last and only word. With one last gasp, he lay still. Blood gushed out of his wound.
That's it... I've killed him! Silversong fell and felt dizzy.
"Silversong!" It felt like the cat was far away. Silversong slowly closed her eyes and drifted into blackness. I did it, StarClan. Are you proud? She had succeded in killing the rouge leader. A murderer who's heart was cracked with ice.
He was gone now, and Silversong drifted peacfully into unconsiousnes.
THE END
Community content is available under
CC-BY-SA
unless otherwise noted.